If you have been following my blog since it was on Myspace, then you know that awhile back we had an emergency here. Sweetpea misplaced her favorite lovey, a stuffed puppy named Einstein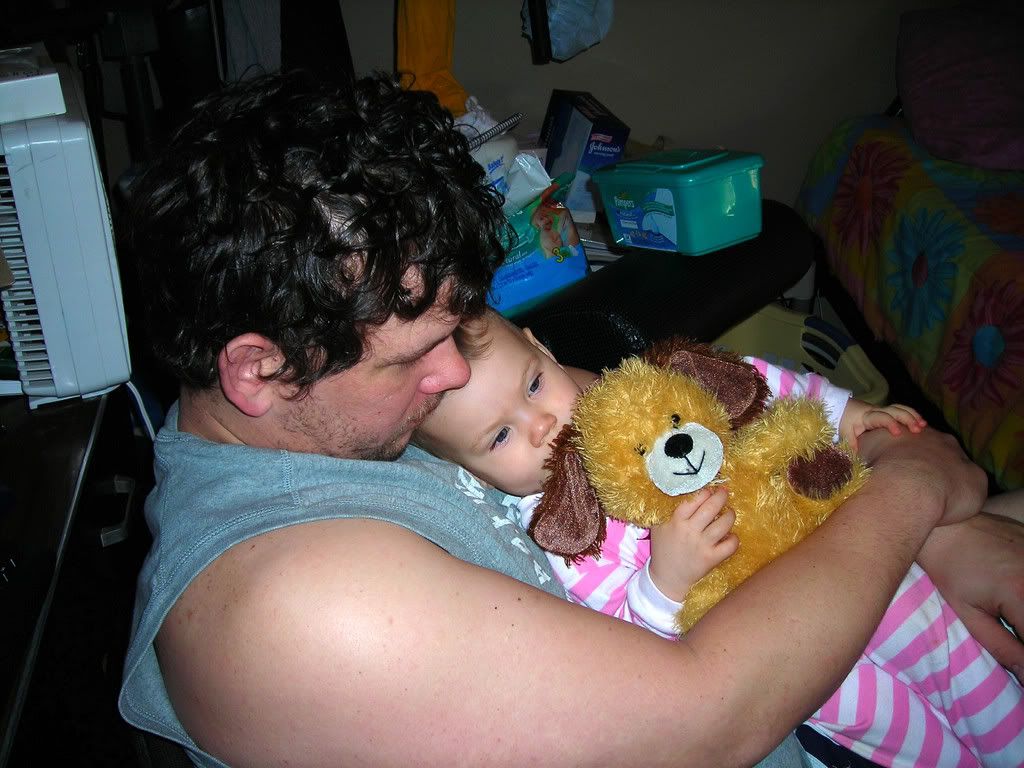 (from the Disney show, "Little Einsteins" that Sweetpea loved at the time). Well, we did find him after a very long night of crying and sleeplessness in his absence, but Sweetpea was very upset by the whole ordeal and has since kept a very tight leash, so to speak on the puppy.
Einstein was a "welcome home" gift to Sweetpea when she was just 8 months old from her cousin upon our return to North Carolina. We had spent the previous six months in Virginia with my family. If we had only known the attachment that she would have to him, we would have rushed out right then to purchase another one. Their bond was one made over time and Einstein slowly became Sweetpea's right hand man. She is never far from him and he is always there for every fall, every tear, every excitement, every developmental milestone, every car trip, every slip into
slumberland
at night and for nap. After a few close calls in department and
grocery stores, we tried to find another identical stuffed puppy to have on hand "just in case." We searched high and low to no avail. I even googled the number on the tag trying to find some information on the manufacturer with zero results. We had to hang up the towel and hope that we never lost him for good.
Over the almost two years that Einstein has been a member of our family, he's slowly lost a little of his spark. His fur is patchy and not even remotely as fluffy as it once was, he is ragged with the wear of washing, he has a spot worn on his little puppy forehead from where Sweetpea holds her mouth to him when she is upset or bored. Nevertheless, she loves him and they are
inseparable
. He is her very best friend.
So, imagine my surprise when yesterday after spending the afternoon with my mother in law, Sweetpea traipses through the door holding Einstein and his doppelganger! My mouth hit the floor. Where on earth did they find him after all this time and searching? Apparently Einstein has relatives at Family Dollar.
The comparison between the two is quite noticeable. Sweetpea doesn't seem to be phased by Einstein's "brother." In fact, she insists that Bub play with him and the he's not her puppy. Ah well. At this point, Einstein is so worn that she would know the difference between him and a replacement without a doubt. We haven't named the new addition yet, but he's very welcome even if he doesn't gain the popularity that Einstein has. Who knows? Maybe Sweetpea's gesture of sharing the new puppy with Bub will create another bond and I'll have two children with puppy loveys.