Welcome to the 10th Bee Crafty Kids link up here at To the Moon and Back!
This week, I'm finally back with something new! My husband is still recovering, but he is getting to be much more back to himself so things can start to return to a somewhat normal routine!
This week, I tried out an idea that I've seen all over Pinterest and several other places. I made my toddler a color sorting toy from a container that would typically be tossed in the garbage!
We don't eat many chips around here, so I did actually intentionally purchase a can of Pringles so that I could have the can. 😛 Hey, you do what you gotta do.
First, eat all the chips. No, don't do it in one sitting. Of course you could just transfer them to another container, but where's the fun in that?
Then paint the can white to cover up the propaganda, ahem pictures.
Then paint or use markers to make your own design. I had some help from little hands. Since we were using it for color sorting, we decided to use primary and secondary colors to decorate our cans (Psst…one of them is for someone else and is a secret. Hope they aren't reading this! 😉 ).
After the paint dries, poke holes in the lid. I wanted to do the 3 primary colors and the 3 secondary colors (in keeping with the theme), so I poked 6 holes in each lid. I used a knitting needle–it worked perfectly.
Ta da!
Then place some paper hole reinforcers over each hole. I got mine for less than $2 at Walmart.
Use markers to color them different colors.
Grab some pipe cleaners in corresponding colors. You may have to trim them down so that they are at least a little bit shorter than the can.
Now you have your very own color sorting toy! Hand the pipe cleaners and the can to your nearest toddler and show them how to match the colors.
Ooh! Fun!
Easy peasy! My older two children were actually jealous of this toy. (Why do I buy toys from the store again?? )
To appease them, we started working learning how to mix certain paint colors to come up with new colors. I made them a fun worksheet as a visual reminder and I'm going to offer it to my readers for FREE! 🙂 Just click the image to download. 🙂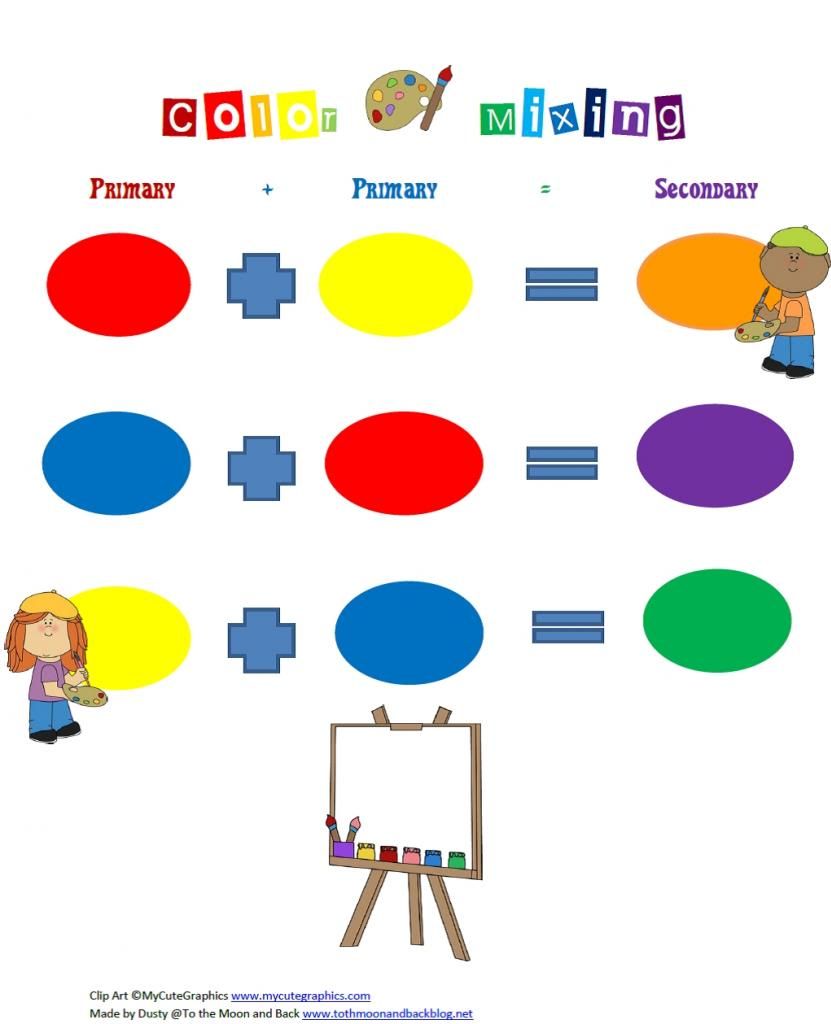 Now it's time for YOU to share what you and your children have been crafting!
Feel free to grab a button so others can find us!
<div align="center"><a href="http://www.tothemoonandbackblog.net/search/label/Bee%20Crafty%20Kids" title="Crafty Kids Link Up"><img src="http://i1165.photobucket.com/albums/q594/dustybug83/CraftyKidsLinkUp_zps58cc9eea.png" alt="Crafty Kids Link Up" style="border:none;" /></a></div>
Rules are simple:
~Enter the direct link to one or more of your own posts that showcase a craft or hands on activity for children.

~A link back to To the Moon Back with the above button is appreciated, but not required

~Try to at least comment on one or two of the other blogs that took the time to share and join!
That's it! I look forward to seeing what you share!