It's that time of year again! Homeschoolers are gearing up for summer break to plan for next year or if they are year rounders like us, they are getting ready to kick off their new year! Books, books and box days galore!
Last year I really enjoyed hosting the Heart of Dakota Blog Roll for 2012-2013. It's fun to get to know new bloggy friends and see others utilizing the same curriculum choices, but with their own spin. That's why I'm thrilled to be hosting it again this year!
While we won't be using HOD for all of our children next year, I will be using their precious preschool program with my youngest daughter and I've always enjoyed looking through the blogs of fellow Heart of Dakota users.
Without further ado, here it is folks! The 2013-2014 Heart of Dakota Blog Roll!!
Click the button below to add yourself to the list!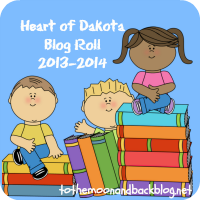 Sharing with:
A Mama's Story, Raising Arrows, The Better Mom, The Modest Mom, What Joy is Mine, Far Above Rubies, Growing Home, Time Warp Wife, Raising Homemakers, Deep Roots at Home, Hearts for Home, Women Living Well, and Teaching Mama, Raising Mighty Arrows,
The following two tabs change content below.
Dusty is a work at home, homeschooling mother of four and has been married to the love of her life, a Southern gentleman, for 10 years. She is trying to find her own path in this great wide world while devouring chocolate and leaning on the Lord.
Latest posts by Dusty Shell (see all)