Welcome to the 16th Bee Crafty Kids here at To the Moon and Back!
I'm Ashley, from
Life with Moore Babies
, and I am thrilled to be sharing here at Bee Crafty Kids! Every year we buy fireworks, the only thing is we wait until after the July fourth! You see we always go to a professional display on the fourth, and we have found that fireworks going on sale significantly a couple days after while stands are attempting to reduce inventory. It is really not uncommon for us to have fireworks left over the next year. Such is the case with these little
Champagne Party Poppers.
These little guys were just sitting in a bag at Grandma's for one or two or three
(we really don't know how many)
years.
My kids enjoy these little party poppers and all the pretty papers that come out of them. But then we have paper all over and it has to be thrown away which sometimes causes meltdowns. So I came up with a way to keep them (a little longer at least). I set the kids up with contact paper, sticky side out, on the easel. They were then instructed to shoot the party poppers at the easel. Viola! They stick!
After they each had a turn. they tried doing one at the same time!
After they had enough on each sheet, they took the time to rearrange them how they liked and then I placed a second sheet on contact paper on top.
Now they can hold onto their pretties or hang them on the wall or in the window or use them as place mats at the table!
A classic strong-willed child, Ashley, fulfilled her lifelong dream of becoming a veterinarian in 2005; only to realize a new dream had formed, having a family with her husband (another strong-willed child). After much heartache, they were blessed with two daughters and a son, who are all proving to be just as spirited as their parents! Though she is still working part-time, she fills her days off with fun activities and lots of learning with her three kids. And this is where the blog comes in. Life with Moore Babies is where she documents the activities they do and the places they go in hopes that someone might be inspired to do some "fun learning" with their kids.You can find Ashley on Facebook, Pinterest, Twitter, and Google +.
Now it's time for YOU to share what you and your children have been crafting!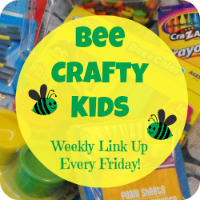 <div align="center"><a href="http://www.tothemoonandbackblog.net/search/label/Bee%20Crafty%20Kids" title="Bee Crafty Kids"><img src="http://i1165.photobucket.com/albums/q594/dustybug83/BeeCraftyKids3_zps44074ad6.png" alt="Bee Crafty Kids" style="border:none;" /></a></div>
Rules are simple:
~Enter the direct link to one or more of your own posts that showcase a craft or hands on activity for children.

~A link back with the above button is appreciated, but not required

~Try to at least comment on one or two of the other blogs that took the time to share and join!
That's it! I look forward to seeing what you share!