My oldest daughter has been begging for piano lessons for about three years now. Our budget is very tight in the extracurricular department and she was already taking monthly art lessons and weekly ballet classes. It just wasn't in the cards at the time. This past spring, she started requesting the lessons again so my husband and I decided that we would figure things out so that she could begin in the fall.  My sister in law had a piano that she gifted us, so all we needed to do was find a teacher.
I have to admit that it was slightly stressful, worrying about how we would squeeze even more out of our budget, but it is important to us for our children to be able to pursue their interests if it is at all feasible for us to assist them. Then we were blessed to be allowed the opportunity to review HomeSchoolPiano and my worries were whisked away! We received a lifetime subscription for up to five students (maybe I'll learn too!) to HomeSchoolPiano – Complete Set of Books.
What is HomeSchoolPiano?
It's a subscription program that provides instant access to online piano lessons that you follow at your own pace. Using a six step cycle including technique, rhythm, ear training, reading music, song, and improvisation, it presents a thorough well rounded instructional curriculum that meets all nine requirements of the National Association for Musical Education.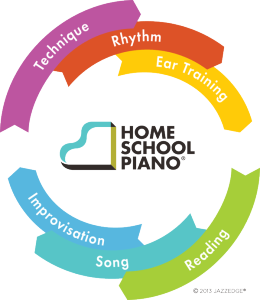 Lessons are taught by the personable Willie Myette, a musician and clinician, a graduate of the Berklee College of Music. His accomplishments are many and HomeSchoolPiano is only one of several endeavors that he leads.
How Does it Work?
There are four books in the complete set that can be used with all ages.  Your skill level determines which book you need to begin your piano lessons.  The lessons are presented by Willie via an onscreen video that presents the piano keys up close so that the student can be sure to mimic the correct motions and hand placement.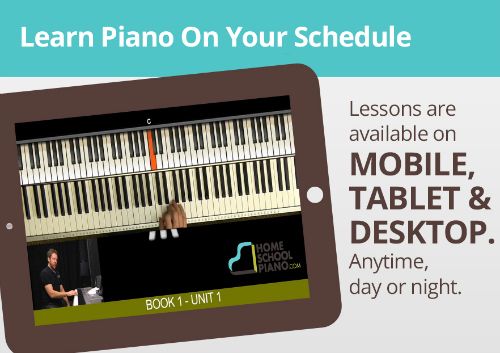 The lessons are self paced.  Move as slowly or as quickly as you need to and the program will save your place. Each video is relatively short (approx. 5-10) so it's very possible to do several of them in one sitting. Here is a brief breakdown of each book:
CorePiano: This is where the very beginning basics are introduced to the student. The varying notes of the piano, the five finger scale, how to properly sit at the piano, what the pedals do, playing with your hands together, and more is taught.
Book 1: Six units teach concepts such as major pentatonic scale, quarter notes and rests, using chords in improvisation, and other introductory lessons. The student will also learn six original music pieces.
Book 2:Broken chords, syncopated rhythms, triads, and style markings are some of the topics covered in this level.
Book 3:The final book involves more complicated lessons on things like arpeggios, chord progression, using the pedals, and melodic phrases.
The six step cycle used throughout the entirety of the program consists of the following:
Technique:It's important to ensure that students learn how to play and use the instrument properly from the very beginning. Building the right foundation is key to avoiding having to fix ingrained mistakes later.
Rhythm:HomeSchoolPiano uses a unique vocalization process to teach rhythm, the "heartbeat" of music.
Ear Training: Learn how to listen and distinguish melody, harmony, and rhythm.
Reading Music:Step by step, the ability to sight read music is taught. This is an integral part of learning how to play an instrument and compose your own pieces.
Song: Rather than standard exercises, this program uses actual songs while teaching.
Improvisation: Express your own creativity while creating your own musical compositions.
You can add up to five students to your account and each account will save the place where that individual student stopped their lesson so that they can just pick back up where they left off.
How Did We Use It?
As mentioned above, my daughter is a beginner, so we started with the very first book, CorePiano. I propped up our laptop on the couch next to the piano and started up the videos for her when it was lesson time.
She was very focused on the instruction and carefully performed each task while watching Willie on the screen. She was incredibly proud of herself each time she learned something new and would practice her new skill over and over (and over!) again for as long as she was allowed. I love the excitement bubbling within her as she progresses through the lessons. If the baby is fussy, she will ask if she can "play the piano" for him to make him happy. Even though she only knows a few notes at this point, she will happily clunk them out trying to assuage her baby brother. Those are the sorts of things that make a mama's heart smile. She also thought Willie was very funny and she'd often giggle at how animated he became during some of the lessons.
What Did I Think?
I think that HomeSchoolPiano is a fabulous option for many families who cannot afford private lessons or who would prefer to work at home. I certainly know how tiring the shuttling from activity to activity can be, especially if you have several children. Willie is an enthusiastic instructor who teaches clearly and in a manner that children can understand, yet adults will appreciate as well.
I like that this can be done in your own time, at your own pace. We are a busy family and since we don't have to worry about doing this on a set day or time, we can fit it in more often because it adapts to our schedule.  The flexibility is wonderful.  I enjoyed the ability to go as fast or slow through lessons as we needed.  We can pause and rewind if needed or repeat a lesson in its entirety.
The one downside to using this is that if no one in your family is knowledgeable about playing piano, you cannot get direct feedback. We plan on utilizing this on a regular basis and then still looking into acquiring private lessons in another year or so.
What Does it Cost?
There are two options for subscribing to HomeSchoolPiano.
Success Package
This is a one time payment of $299 which provides you an unlimited life-time access to HomeSchoolPiano along with all bonuses (downloads, jam tracks, sheet music) for up to 5 students.
Payment Plan
This requires three monthly payments of $99.97. This also gives you unlimited life-time access to the site and all bonuses for up to 5 students.
Now if you are like me, the initial outset of costs is high, but when you see that it buys you lifetime access and then compare with the cost of private lessons, you will quickly see that this actually quite the steal. It is also designed to be used for all ages so you're entire family (up to five people) can use the subscription!
All in all, I have been quite pleased with this program. My daughter's happy, she's learning a fun, new skill, and we're adding another element to her education. Sounds like a win to me!
Connect more with HomeSchoolPiano on Facebook, Twitter, and Pinterest.