I have had so much fun researching topics to include in Dusty's ABC's of Bible Study for Children series, for the letter C. "C is for Christian" is a compilation of online resources – most are completely free – for teaching your child what it means to be a Christian. The variety of links presented here are for preschool through about 6th grade.
This was a very difficult topic to research and compile resources for, and I realize that there may be some disagreement on the finer points of doctrine. That being said, I share these references without bias. In providing these resources, I am overlooking some points in doctrine which may slightly stray from my own personal beliefs, and may also be misaligned with the beliefs of the varying readers of this blog. Use them as you wish, and feel free to pick and choose according to your own personal beliefs. I recommend you read each resource fully and completely to make sure you are in agreement with them before using them in your homeschool.
There are some really good preschool websites out there for teaching foundations of Christianity, but my personal favorite is
Raising Rock Stars Preschool
– it is a resource I have used with my children in the past, from one of my all-time favorite blogs I've followed since I began blogging in 2009. I recommend it to everyone, any chance I get. Here at our preschool, we learn a letter of the week, and
the book referenced, My ABC Bible Verses, is a favorite at our house to go along with the ABC's
. You may be able to find it at your local library.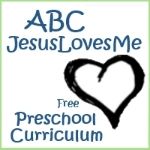 ABC Jesus Loves Me
is also a good one for teaching foundational concepts, and free. Or, you can purchase the entire curriculum in book form.
A Joyful Heart offers a pre-Kindergarten curriculum option that focuses a lot on encouraging good character traits from a Christian perspective.
I was recently introduced to Motherhood on a Dime's lesson plans, which are also linked to letters of the alphabet (can you tell I love that concept?). We may have to try God's Little Explorers out this year! It looks like a great foundation in teaching Biblical concepts as well as the ones I've listed above.
Calvary Curriculum
offers resources for preschool through 6
th
grade, and can be used as a foundational course.
The
Easy English short course titled "What is a Christian?"
can be downloaded and used as a reference, it includes easy-to-understand language, which can assist you in explaining finer points with young children. Advanced readers and self-directed learners may read it themselves for background information, a research-starter, or as a
report/presentation resource.
Sunday School Source's lesson plan
The Greatest Commandment
explains the purpose of a Christian's life.  It includes review questions and activities after reading.
You may also enjoy:
Deana is a homeschooling mom of 3, who lives in North Carolina.  A follower of Christ, she is passionate about helping others homeschool on a budget, and inspiring others to help those in need within their community.  She blogs at The Frugal Homeschooling Mom (www.TheFrugalHomeschoolingMom.com) and is the creator of the charitable organization, Homeschool Curriculum Free for Shipping (www.HomeschoolCurriculumFFS.blogspot.com).  In addition, she serves as a ghost writer and contributor for several other websites/blogs.